Au Pair Nanny Nigerian Scam Warning
Do not fall victim to Nigerian scams and check fraud. Alias Mark Kennebeck, Adam James and Mark Adam (and other aliases) is trying to defraud au pairs; nannies; renters seeking roommates; e-Bay sellers; and online car sellers. Scammers operate under aliases and use different email addresses, bank accounts and accomplices with false identities. GreatAuPair has documented this Nigerian scam by providing all known details related to the scammer's modus operandi, below.
The story often changes, but it always smells a bit like fish. In this particular case, the Nigerian scammer uses stolen credit cards, creates family accounts and poses as an American family, who sends premature "job offer" emails to hire au pairs and nannies. The scammer requests the au pair/nanny's home address so he can send a bogus check (usually $3,000 - $8,000) as a supposed advance payment for a two-week long baby sitting job (or similar au pair and nanny services), which the au pair or nanny is told to deposit in her bank account. Before the check clears the au pair/nanny bank account, the Nigerian scammer sends another email stating that his wife and daughter (or twin daughters in some cases) have died in a car accident and then he requests that the au pair/nanny send him a new check as he no longer needs au pair or nanny services. His ploy is to send you a bogus check and then have you send him a good check or other form of instant payment. He will be insistent that you urgently send a new check or wire money to a bank account (with someone else's name) or send a cash payment by Western Union (to someone else's name) or other similar means. If you tell him you're not going to send him a payment, he will become instantly threatening and even hostile. He'll claim to call the FBI or the police. Don't worry, the FBI is on our side and they are already working on this case to apprehend the entire Nigerian crime ring. Just ignore the scammer's emails. Don't write him back. If he sends you a check, send it to GreatAuPair along with your email history and we'll post it here and forward it to the FBI.
Fraud Prevention Tips
Schemes may be elaborate, involving supposed doctors, generals, and other false identities designed to incite validity by their mere titles. Don't be fooled or manipulated by the lies in these emails.
Trust your intuition. If someone offers to send you an advanced check for anything, whether they send you an email or call you by phone, do not respond to them.
If you receive a suspicious check, DO NOT deposit it or try to cash it. Send all bogus and fraudulent checks to GreatAuPair along with a complete email history so we can post them here and forward them to the FBI.
Verify the phone number and its location; verify the name of the person who answers the phone is the person who gave you the phone number. Don't ask for them by name. Let them tell you their name.
Verify the email address, physical address and identity of the person with whom you are communicating. Make sure to perform a legitimate background check before accepting work from anyone. Make sure all the details match up.
Verify the location of IP addresses for emails you receive to make sure the emails originate from the place of work or country where the sender supposedly lives.
Understand that scammers will try to deceive you and prey on your hopeful and trusting nature. Be smart. Take your time and investigate things until you are 100 percent certain you can trust the person with whom you are communicating. Do not act out of fear or heightened emotions. Verify everything.
Phone Number of Nigerian Scammer
This is a Nigerian Thuraya satellite/cell number, used as a contact number for aliases Mark Kennebeck, Adam James and Mark Adam. The scammer poses as an American family, using many false home addresses, but he has used the same phone number, below, which is easily traceable. If you discover he's using a new phone number, let us know so we can post it here.
Email Addresses used by Nigerian Scammer
The scammer uses several disposable email addresses. Be sure to let us know if you are contacted by this scammer with another email address and we'll post it here.
IP Address used by Nigerian Scammer
Known IP address used in this scam, related to credit card fraud, falsifying identities, and sending emails for the purpose of check fraud. If you discover this scammer using a different IP, let us know so we can post new IPs here.
Bogus QChex Used by Nigerian Scam Artist
The scammer uses QChex.com, an online check service that allows anyone with an email address and a bank account number to write bogus checks. If you call the company whose name is listed on the check, or the issuing bank, you will find that the signer does not have authority to write checks for that account, or that the signature of the check does not match the true account owner's signature on file with the bank. If you receive a bogus or fraudulent check from this scammer, DO NOT deposit it, send it GreatAuPair with the detail of his emails so we can post them here and forward them to the FBI.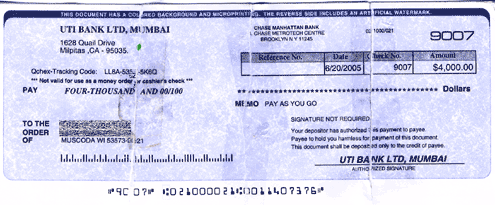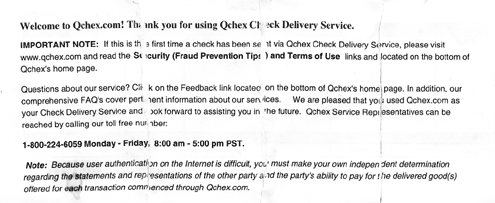 There are many great families in the world seeking sincere au pairs and nannies. Unfortunately, there are a few unscrupulous people against whom we must guard ourselves. GreatAuPair encourages you to read the complaints against host families you may want to avoid. Get informed about the process of finding qualified and legitimate host families for your au pair or nanny job. Run complete background checks. Validate everything. Be smart and be safe in your search.